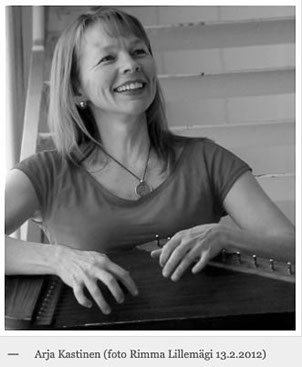 Arja Kastinen
The kantele player Arja Kastinen (b. 1963) was the first Finnish folk musician to take the Doctor of Music examination in the artistic study programme at the Sibelius Academy in December 2000. What inspired her to do this was the ancient Karelian kantele improvisation. The examination included five concerts and a written dissertation.
During 1997-2000, she gave five solo performances based on improvisation, entitled "Music based on the ideology and the acoustical phenomena of the kantele in the Karelian kantele improvisation". The instruments she used were a 15-stringed kantele made by Keijo Säteri from Leppävirta, Finland, a 14-stringed kantele made by Rauno Nieminen from Ikaalinen, Finland, and a 9-stringed kantele brought from Karelia during the War in the 1940s. The original model for the 15- and 14-stringed kanteles was found in Korpiselkä, Finland, in 1916 and is now kept at the National Board of Antiquities (The National Museum of Finland).
In her performances, Kastinen mixed the old and new playing techniques presenting the versatile timbres and acoustic properties of the kantele.
The concerts were experimental journeys to the dim and distant past seeking to uphold tradition while creating new things.